Mark L. Jewell, MD 1200 Executive Parkway Suite 360 Eugene, OR 97401 Phone: (541) 683-3234 Fax: (541) 683-8610 Monday – Thursday: 9 a.m.–5 p.m.
Friday: 9 a.m.–2 p.m.
Practice Philosophy
The Science of Beauty
Dr. Mark Jewell and his staff are in the business of providing their Eugene, Oregon, plastic surgery patients with comprehensive, individually tailored, and scientifically researched medical care in cosmetic medicine and plastic surgery. In the world of plastic surgery, he and his staff are known for their delivery of excellent outcomes and patient satisfaction.
Beauty and medicine are merging, but the importance of research, science, and safety remains paramount, and that is why Dr. Jewell is committed to investigating new technology and providing his patients with safe and effective options. He has been involved in the clinical research and development of fillers, neurotoxins, form-stable breast implants, ultrasonic lipoplasty (surgical and non-surgical), and drug therapy to reduce scarring.
Making the Right Choice
Your decision to undergo any cosmetic medical treatment is very personal and serious. Once you have come to a decision to learn more about what a particular treatment can do for you, your next step is to choose a doctor with whom you can have a comfort level and trusting relationship.
"Your surgeon and his or her staff should openly discuss your concerns and particular needs throughout the process of consultation, surgery and aftercare."
"Finding the right doctor is more confusing now than it ever was," says Mark L. Jewell, MD, past president of the American Society for Aesthetic Plastic Surgery. Beyond the qualifications of the surgeon, Dr. Jewell advises that you look for a surgeon with a service-minded staff with excellent listening skills. "Your surgeon and his or her staff should openly discuss your concerns and particular needs throughout the process of consultation, surgery and aftercare."
–NewBeauty Premier Issue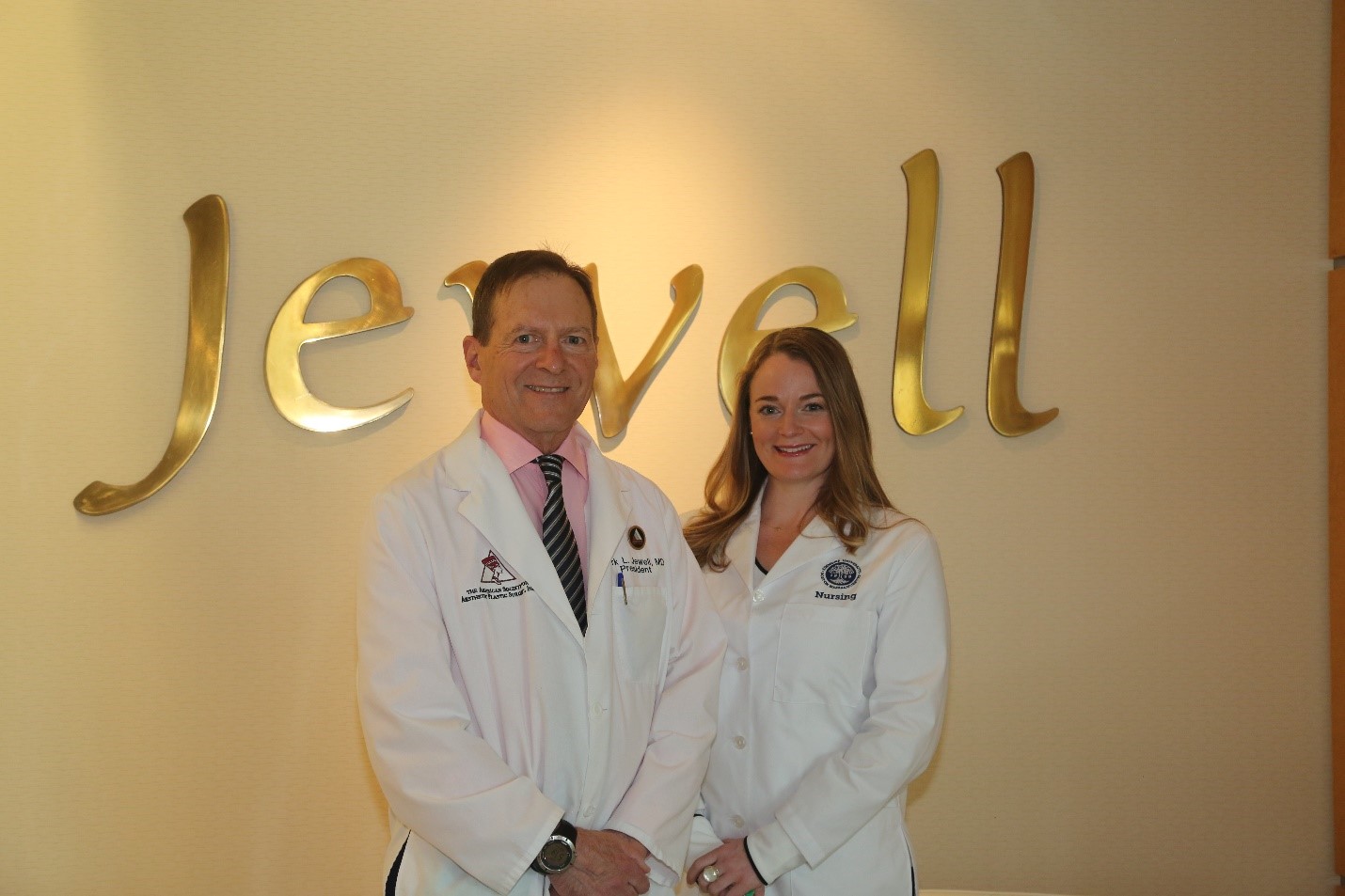 About Our Staff
One of the most unique parts of the patient experience with Dr. Mark Jewell is the lovely interaction that our patients have with his amazing staff. Our patients tell us that there are not enough superlatives to describe how wonderful they make patients feel about their care. What Dr. Jewell's staff offers is a unique, personalized type of plastic surgery for every patient.
Patients pursuing nonsurgical procedures, including cosmetic injectables, are often treated by Hillary Jewell, a board-certified nurse practitioner and nurse injector. You can read what previous patients have said about their experiences with Hillary on our patient reviews page.
Through combining years of knowledge, with skill and intuition in a luxurious, healing environment, our staff will make you feel special. Patients describe this as a type of experience that they would have wanted to have if they could have designed it for themselves.
Dr. Jewell is fortunate to have an extremely talented, caring staff that help our patients obtain the best results. His staff has been with him for many years and has professional training and experience to truly make your experience in our office memorable. They collectively have 166 years of service to our patients. Patients tell us every day that they trust Dr. Jewell and his staff to care for them is the best way possible.
Among Oregon plastic surgeons, Dr. Jewell enjoys a reputation as a leader and can help create the results you desire. Request a consultation using the online form or call us at (541) 683-3234 to schedule an appointment. Our practice serves women and men from Salem and Bend to Roseburg and the South Coast.
Back to Top