Mark L. Jewell, MD Alireza "Reza" Najafian, MD 1200 Executive Parkway Suite 360 Eugene, OR 97401 Phone: (541) 683-3234 Fax: (541) 683-8610 Monday – Thursday: 9 a.m.–5 p.m.
Friday: 9 a.m.–2 p.m.
Ultherapy®

Loose skin on the neck, under the chin, and over the eyebrows, are among the earliest signs of aging. Women and men from Salem, Bend, Corvallis, and other nearby communities who want to tighten their skin without surgery can benefit from Ultherapy treatments at our Eugene, Oregon, practice. Ultherapy is cleared by the FDA as a nonsurgical skin tightening procedure that lifts the skin and creates a more youthful appearance on all areas of the face and décolletage.
Ultherapy®

Before & After Photos
WARNING:
This feature contains nudity. Please click OK to confirm you are at least 18 years of age and are not offended by such material.
Benefits of Ultherapy
Ultherapy uses ultrasound powerful energy to transform the brow, chin, neck, and chest. The treatment works deep below the surface without harming the outer layer of skin. Ultherapy firms, tightens, and lifts the skin. Benefits include:
Natural-looking, gradual results
No incisions or scarring
No downtime
Excellent safety record with more than 1 million treatments worldwide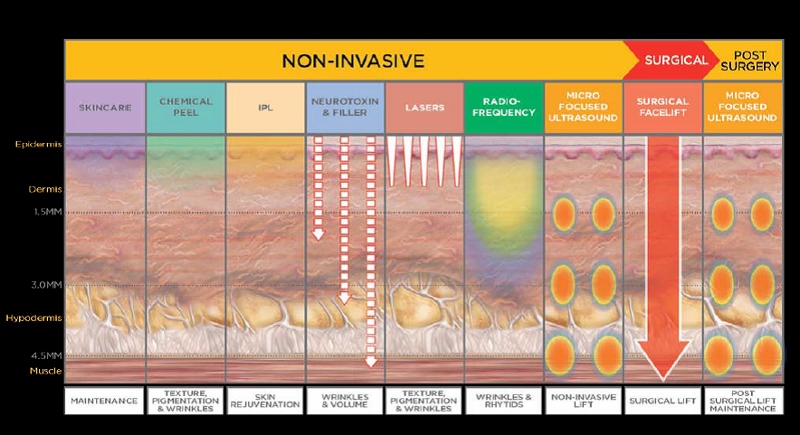 How Does Ultherapy Work?
Collagen is a protein and an important building block for the skin, making up to 70% of the protein within our skin—it's what helps it stay toned and supple. The skin's foundation, the dermis, is the primary source of its collagen. Collagen production slows down as we age, and existing collagen begins to break down, resulting in loose skin.
When Ultherapy delivers focused ultrasound energy to various skin layers below the surface, it stimulates the body's natural healing response, triggering the growth of new collagen and strengthening of weaker collagen. Because the healing process takes time, the results don't appear immediately. Instead, you'll begin noticing a change after 3 to 4 months and collagen continues to gradually build up for a year. This gradually lifts and tightens the skin in the treatment area.
Our Exceptional Providers
Dr. Jewell and Dr. Najafian combine artistry and surgical expertise to create customized results tailored to each patient's unique needs.
Ultherapy vs. Skin Tightening Options
Unlike skin tightening treatments performed with lasers, radiofrequency energy, or other technologies, Ultherapy bypasses the surface of the skin to deliver energy with precision at optimal depths and temperatures. Also unique to Ultherapy is the use of ultrasound imaging, which allows Dr. Jewell or Dr. Alireza "Reza" Najafian to see the layers of tissue being treated, ensuring energy is delivered safely and to where it will be most beneficial.
While Ultherapy does not duplicate the result of a facelift, it's an exciting alternative for those with early signs of skin aging. It can also extend the results of facial cosmetic surgery for patients who have already undergone such a procedure.
Good Ultherapy Candidates
Women and men with mild to moderate skin laxity can benefit from Ultherapy treatments. Patients seeking skin tightening treatments without surgery consult with Dr. Jewell or Dr. Najafian to determine if they're good Ultherapy candidates or if they would be better served by facial plastic surgery such as a MACS facelift, blepharoplasty (eyelid surgery), or a neck lift. Our surgeons' expertise in these areas helps patients make the right choices to get the best possible results.
A Reputation Built on Results
I have been seeing Hillary for about 10 years and I can honestly say you won't find another more qualified,...
I love seeing Hillary! She is the best!
Does Ultherapy Hurt?
Comfort levels vary from person to person when Ultherapy delivers ultrasonic energy to precise depths under the skin's surface. Any discomfort experienced during the procedure indicates the initiation of the collagen-building process and the sensation only lasts during the delivery of ultrasound energy. Dr. Jewell, Dr. Najafian, and our staff take appropriate measures to ensure the experience is as pleasant as possible. The treatment's length depends on the area being treated and the individual plan for each patient. A procedure focused on the face and neck takes about 60 to 90 minutes. There is little to no downtime following the treatment and you can plan on returning to your normal activities within 24 hours.
After the Ultherapy Procedure
Your skin may appear a bit flushed immediately after the treatment, but any redness should disappear within a few hours. You may also feel mild tenderness under the treated areas, which is normal. This indicates that the healing process is underway and that new, healthier collagen is being generated. New collagen continues to be produced for up to 18 months in some cases. Results vary in every person and skin continues its natural aging process, so you may need to schedule an annual touch-up visit to maintain your results.
Dr. Jewell's Ultrasound Technology Expertise
Ultrasound energy has been used safely in the medical field for more than 50 years. Dr. Jewell is an innovator, researcher, and educator who appreciates that Ultherapy is scientifically proven to stimulate collagen production. Scientific research on treated skin showed that Ultherapy increased the rate of collagen production on average in 42% in candidates with collagen types I and III– the types most often associated with aging.
In the FDA clinical trial, 9 out of 10 patients had noticeable, significant lifting of the brow line. This resulted in a more open look to the eyes and a more overall youthful appearance. Patients also reported firmer and tighter skin in other areas of the face and neck as well. A smoother texture and more even skin color are also possible side benefits.
Men and women considering Ultherapy travel from Salem, Corvallis, Florence, and Roseburg to our Eugene, Oregon practice. Request a consultation with Dr. Jewell or Dr. Najafian using the online form or call our office at (541) 683-3234 to schedule an appointment.
Jewell Med Spa & Specials
It's never too early to begin the journey toward healthier, youthful looking skin.
Learn More
Back to Top