Mark L. Jewell, MD Alireza "Reza" Najafian, MD 1200 Executive Parkway Suite 360 Eugene, OR 97401 Phone: (541) 683-3234 Fax: (541) 683-8610 Monday – Thursday: 9 a.m.–5 p.m.
Friday: 9 a.m.–2 p.m.
Brow Lift for Men
Brow lift surgery offers patients the ability to reshape the drooping found on the outside region of the eyebrow and to slightly elevate the inner eyebrow portion. While many patients are satisfied with the use of neurotoxins such as BOTOX® Cosmetic www.botoxcosmetic.com and Dysport® www.dysportusa.com to control wrinkles and frowning of the inner brow others seek a brow lift surgery to elevate the outside brow region. When the eyes are droopy and eyebrows are lower than the orbital rim a blepharoplasty alone will not render the best outcome to open the eyes. This can be accomplished with either endoscopic brow surgery or a lateral brow lift that has incisions hidden inconspicuously in the temple region. Typically this is seen more in men than women.
How do our plastic surgeons evaluate you for a brow lift?
Dr. Mark Jewell or Dr. Alireza "Reza" Najafian will closely evaluate your entire forehead and upper eyelid region, noting the muscle activity as you perform various facial expressions. They examine the position of the eyebrows, amount of excess upper eyelid skin, and height of your hairline. The technique Dr. Jewell and Dr. Najafian perform is an endoscopic brow lift or a lateral brow lift.
Our Exceptional Providers
Dr. Jewell and Dr. Najafian combine artistry and surgical expertise to create customized results tailored to each patient's unique needs.
Am I a good candidate for a forehead lift?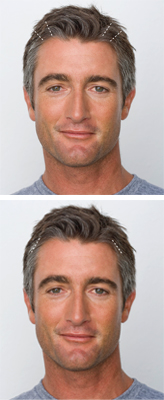 Neurotoxins can work well for men who have wrinkles on the forehead and frown lines between the eyes, but what makes a person a good candidate for the brow lift procedure is when the eyebrows have sagged below the orbital rim and an upper blepharoplasty alone will not open the aperture of the eye adequately.
How is an endoscopic brow lift performed?
This technique uses a small pencil-sized video camera connected to a television monitor. The endoscope is inserted into several small, half-inch incisions placed behind the hairline, providing Dr. Jewell or Dr. Najafian with a clear view of the muscles and tissues under the forehead. With this technique, it is possible to release the sagging forehead tissues and elevate them. Our surgeons use temporary forehead fixation devices called Endotines®, an absorbable type of suspension. Lateral brow lifts involve incisions in the temple region with lateral suspension of the brows. Both procedures may be performed as stand-alone surgery or in conjunction with a facelift.
Men considering a brow lift travel from Roseburg, Florence, Salem, and Bend to have Dr. Jewell or Dr. Najafian perform their procedures. Request a consultation online to meet with one of our surgeons, or call his office at (541) 683-3234 to schedule an appointment.
Back to Top