Mark L. Jewell, MD Alireza "Reza" Najafian, MD 1200 Executive Parkway Suite 360 Eugene, OR 97401 Phone: (541) 683-3234 Fax: (541) 683-8610 Monday – Thursday: 9 a.m.–5 p.m.
Friday: 9 a.m.–2 p.m.
Spa Products
Our medical spa in Eugene, Oregon, offers professional-grade skin care and spa products tailored to keep your skin looking healthy, radiant, and youthful. The products benefit people with skin conditions such as rosacea, melasma, dry skin, and acne and promote smoother, firmer skin.
Products We Offer
We recommend the skin care and spa products that best treat your concerns. These products are available only through leading healthcare professionals. We can help customize your at-home skincare regimen after evaluating the results of a Reveal® Imager scan. This skin analysis shows sun damage, pigmented areas, spider veins, wrinkles, and other complexion issues.
Obagi®
Obagi products help maintain strong, smooth, healthy skin, improving the appearance of common skin conditions such as premature aging, sun damage, hyperpigmentation (irregular or patchy discoloration of the skin), acne, and rosacea. Cellular turnover, which keeps skin looking young and healthy, slows down due to aging, sun exposure, and lifestyle choices. This decrease in cellular turnover causes the skin to show premature signs of aging, and become less firm and supple. Obagi works to reverse the changes in cellular structure, which corrects damage within the skin and increases cellular renewal, visibly transforming your skin from the inside out.
Obagi has several skin care systems, developed to target specific skin care needs. The Obagi Nu-Derm system is intended for individuals with concerns about photodamaged and hyperpigmented skin and the system can be tailored to accomplish your skin care goals. The Obagi C Rx system targets fine lines, unevenness of skin tone, hyperpigmentation and age spots. This system is appropriate for dry, normal, oily or even sensitive skin. Obagi also created a specialized system for individuals with rosacea. The system leads to clearer, calmer and a more balanced-looking complexion. Patients with acne can use the CLENZIderm M.D.™ system, which is specifically formulated for normal to oily skin to help treat acne deep in the pores.
SuzanObagiMD™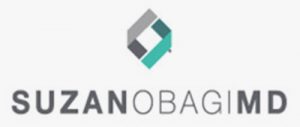 This unique product line is comprised of scientifically formulated products that cleanse dirt and other impurities while defending against UV rays and rejuvenating the skin. A 3-step process is the core concept of SuzanObagiMD products:
Cleanse the skin and provide a base to apply other products that is free of impurities.
Protect against the sun's damaging UV rays for proactive skin care.
Renew the skin's complexion and texture with products made with clinically proven ingredients
Every product is dermatologist tested, hypoallergenic, non-sensitizing and free of parabens, synthetic fragrances, and dyes. All products are suitable for all skin types, including sensitive skin.
Renova®
Renova is a prescription tretinoin cream proven to reduce fine wrinkles (including crow's feet) and improve the overall appearance and texture of the skin. The product is effective in the treatment of wrinkles and other signs of skin aging due to Renova's ability to boost collagen production and smooth the skin. Clinically proven in hundreds of studies, tretinoin, a vitamin A derivative, conditions your skin by building a better blood supply, increasing protein synthesis, and stimulating your collagen bundles to produce nature's best moisturizer.
The body has a natural progression towards aging, which begins in the mid 20's. Additional factors such as sun exposure accelerate the natural aging process. Any woman who desires healthy fresh-looking skin should have this product in her daily skin care regimen.
A Reputation Built on Results
I had the opportunity to meet Hillary yesterday under less than perfect circumstances and I wasn't excited...
I have been seeing Hillary for about 10 years and I can honestly say you won't find another more qualified,...
I love seeing Hillary! She is the best!
LATISSE®

LATISSE is a prescription-only treatment used to grow eyelashes, making them longer, thicker and darker. The product affects the growth phase of the eyelash hair cycle in two ways. First, it increases the length of this phase; and second, it increases the number of hairs in this growth phase. LATISSE is the only prescription treatment approved by the FDA to treat thin or sparse eyelashes.
If you're interested in our med spa and the products we offer, request a consultation using the online form or call our Eugene, OR, office at (541) 683-3234. We serve women and men from throughout Oregon, from Salem to Roseburg to Florence.
Jane Iredale
Jane Iredale has successfully made the most technologically advanced makeup in the world. This mineral cosmetic line known as the "skin care makeup" provides a healthy glow to skin while protecting the skin from sun exposure at the same time. The Jane Iredale line is a highly sophisticated blend of minerals and pigments that are micro-pulverized, using proprietary technology and processes to form microscopic flat particles. These particles overlap each other on the skin to form a filter that allows the skin to breathe and function normally while still protecting it from air-borne pollutants.
The staying power of the minerals is so great that they rarely need a touch-up during the day. And because these silky-feeling powders are water resistant, they will not smear even during strenuous exercise. Along with an excellent camouflage line, which we offer to all of our surgical patients, Jane Iredale with its array of products and colors to choose from will become your favorite new makeup line.
Back to Top