Mark L. Jewell, MD Alireza "Reza" Najafian, MD 1200 Executive Parkway Suite 360 Eugene, OR 97401 Phone: (541) 683-3234 Fax: (541) 683-8610 Monday – Thursday: 9 a.m.–5 p.m.
Friday: 9 a.m.–2 p.m.
Light-Based Treatments
With more than 25 years of experience using lasers to enhance the skin and in surgical procedures, Dr. Mark Jewell, along with Dr. Alireza "Reza" Najafian, provides light-based treatments that offer patients specific options with regard to improving sun damage, wrinkles, and pigmented skin lesions. Laser hair removal is very popular in Eugene, Oregon, with both women and men.
Our Reveal® Imager skin analysis system helps us customize your laser skin treatment based on what the advanced photographic technology shows.
What are the options for light-based treatments?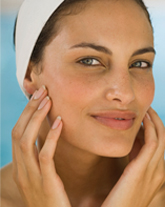 Dr. Jewell and Dr. Najafian have experience in laser treatments from the carbon dioxide laser that is used for facial resurfacing to improve sun damage and wrinkling to newer approaches that use the Cutera Xeo® platform that powers Limelight® / ProWave 770® Intense Pulsed Light (IPL) devices for skin treatment/hair reduction and the Cool Glide® 1064 nm YAG laser for vascular lesions. Forever Young® BBL is an advanced type of IPL treatment that uses broadband light to improve the skin's appearance. There are other options of light emitting diode blue and red waves for the treatment of acne in the Jewell District Medical Spa.
I have heard about a lot of different lasers, which is best?
There are a lot of claims made by laser companies and physicians regarding outcomes, to the point that lasers have been made to be a "magic wand" that will improve a variety of skin problems. Our surgeons believe that the light-based treatments that we have available in the Jewell District Medical Spa in Eugene, Oregon, offer patients the best outcome that is associated with the lowest risk and most rapid recovery. While other forms of laser treatments such as carbon dioxide are used for facial resurfacing, there is a greater risk, recovery time, and prolonged redness that can last for months following treatment.
LASER TREATMENTS
Laser Genesis®
Laser Genesis® utilizes a non-surgical laser technology to safely, discreetly, and effectively treat fine lines, wrinkles, large pores, uneven skin texture, skin redness, and scars. You can expect to see subtle, yet consistent results after each treatment without the side effects of bruising or excessive skin irritation. Over the course of four or five treatments, most patients will see a creamy, healthy complexion as large pores are reduced in size, and minor imperfections are diminished.
Limelight® Facial
This Intense Pulsed Light (IPL) treatment is a quick, safe way to improve your skin's tone and color on your face, chest, arms, and hands. The Limelight® Facial is exceptionally effective in treating and reducing the appearance of brown pigmented lesions caused by aging and sun damage, as well as diffuse redness such as rosacea. IPL leaves your skin looking clearer, younger, and healthier.
*In some cases, combining Laser Genesis® and Limelight® Facial will give you a comprehensive treatment at the 2-dimensional level.
CoolGlide 1064NM YAG Laser®
Cutera CoolGlide® can treat unsightly facial veins (or telangiectasias) without bruising. It delivers pulses of light energy which cause the blood within the vein to coagulate, eventually destroying the vessel which is later absorbed by the body leaving your skin looking clearer.
A Reputation Built on Results
I have been seeing Hillary for about 10 years and I can honestly say you won't find another more qualified,...
I love seeing Hillary! She is the best!
ProWave® Hair Removal
ProWave® is a safe, fast, and comfortable way of reducing hair on all parts of the body. This advanced technology delivers a uniquely tailored light source for long-lasting hair reduction. ProWave® delivers 21st-century technology to provide treatment to a wide range of skin types. Make your unwanted facial and body hair a thing of the past with the ProWave® difference.
Patients considering laser skin rejuvenation or hair removal travel from Salem, Roseburg, Florence, and surrounding areas to our Eugene med spa. Request a consultation online to meet with Dr. Jewell or Dr. Najafian, or call our office at (541) 683-3234 to schedule an appointment.
Back to Top