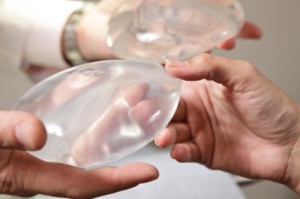 While the newest generation of breast implants have been available in FDA-approved clinical studies for almost 12 years, until recently, most patients had limited knowledge of these devices and what they offer women seeking breast augmentation, reconstruction or breast implant revision. As of February, 20, 2013, Allergan received FDA approval for its style 410 implant.
From a conceptual perspective, these implants made by Allergan (Allergan 410) and the Mentor CPG offer a different approach through breast shaping, versus just filling the breast with a round implant that has been done for the last 50 years. While round implants have specific uses, patients nowadays prefer the option of a more natural, tapered upper pole breast shape rather than the telltale upper breast roundness of having had cosmetic breast surgery.
Dr. Mark Jewell has been involved with the clinical studies sponsored by both Allergan and Mentor that resulted in the recent FDA approval of the anatomically-shaped, form-stable, highly-cohesive gel implants. He has one of the largest combined patient cohorts with these implants in the United States. Additionally, Dr. Jewell has published peer-reviewed scientific articles, book chapters, and editorials on these implants, based on his extensive clinical experience.
Published scientific data from Dr. Jewell's research and the two device manufacturers pre-market clinical trials demonstrates that these anatomically-shaped, form-stable, highly-cohesive gel implants offer better outcomes for patients, as compared to the round-shaped implants (gel or saline-filled), There appears to be better outcomes with the newer implants, a lower incidence of capsular contracture, and a high-degree of patient satisfaction.
Dr. Jewell wants to point out that there are important differences between the three brands of shaped breast implants. He has extensive experience with the Allergan and Mentor anatomically-shaped, form stable implants, which he has used as a clinical investigator. While all three implants are anatomically-shaped, with an upper tapered edge and maximum fullness in the lower portion of the implant, to resemble a normal breast shape, there are differences in the physical composition of the silicone gel, the shape of the silicone shell, and the type of texture on the outside of the device.
The Silimed (Sientra) shaped implant uses a gel formulation that appears to be the same found in its round implants. Its outcomes were part of the Sientra pre-market approval study. Alternatively, there are several peer-reviewed scientific studies that document excellent long-term outcomes with both the Allergan 410 and Mentor CPG shaped implants that contain gels more firm and better at retaining shape over years of time. Dr. Jewell can help you determine which implant option will work best for you.
While that's part of the story, the important news concerning these implants is what patients say about their long-term outcomes and the value they find in having shaped implants versus round ones. Patients report that they like having a cosmetic breast procedure that can be designed around their preferences for shape and size. They also seem to prefer that the surgical incision is underneath the breast, where it is least likely to interfere with nipple sensation or be highly visible. Younger women who opt for the breast augmentation before having children, report that there has not been interference with breast feeding their baby.
While there is great interest in these newest shaped implants, the best candidate for their use is found in patients seeking a proportionate-sized breast augmentation outcome and who have a breast shape that's not too lose or sagging. For women who are athletic and want to avoid the under the muscle location in order to not have their breast move around when the chest muscles are tightened, these implants will provide excellent shaping when placed in front of the chest muscles. Alternatively, excellent outcomes are seen with the partially behind the chest muscle placement, known as bi-planar location. Implant location depends on a variety of factors, amount of breast tissue, patient preference, and breast dimenstions.
With the recent approval of the newest generation of breast implants, patients seeking breast augmentation often ask, "Is this the right implant for me?" Dr. Mark Jewell says, "While no single style of breast implant works for all patients, the form-stable, anatomically-shaped breast implants permit patients to have an individually-designed breast augmentation procedure that takes into consideration her tissues, breast dimensions, and preference of size outcome." This then becomes an operation that is custom-designed for each patient, with many options of implant shapes and dimensions available for the first time in the 50 year history of silicone gel breast implants.
While there is a lot of information available regarding form-stable, anatomically-shaped breast implants, the best way to determine if these devices will work for you is with a consultation with Dr. Mark Jewell.