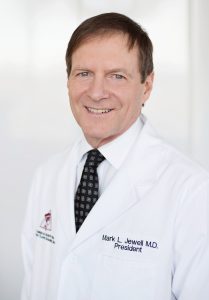 Dr. Mark Jewell and his colleague, Dr. William Adams, Jr. have just published a special topic scientific article in the peer-reviewed Aesthetic Surgery Journal on the use of Betadine as an antibacterial agent that is used during breast implant surgery.
Betadine is an iodine-based antibacterial agent that has powerful properties of killing bacterial that can become attached to the surface of implants during surgery. Additionally, Dr. Jewell uses other ways to diminish the risk of surface contamination such as the Keller Funnel.
All of this is important with regards to prevention of capsular contracture and breast implant-associated anaplastic large cell lymphoma that is associated with textured implants. Dr. Jewell believes that this is an effective strategy and has used Betadine in an off-label fashion for many years. To date, he has had zero infections in 40 years of implant use for primary breast augmentation.
A pre-publication version of the article can be found on the Oxford University Press/ASJ web site: https://academic.oup.com/asj/advance-rticle/doi/10.1093/asj/sjy044/4857357?guestAccessKey=1d024a37-ccc6-4cb8-8a86-883c4b78c815