Summertime finds Oregonians out in nature taking in those fabulous "rays" that we have been anticipating all year.  We are cognizant that ultraviolet exposure (UVA & UVB rays) can cause damage to our skin by robbing it of moisture and elasticity; deepening lines and wrinkles; and causing excess pigment.  So what is an active, nature-loving Oregonian to do?  Find sunscreen protection that is tailored to your particular needs and lifestyle.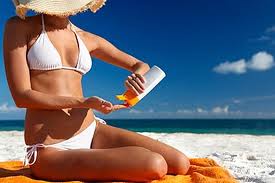 Sunscreens, hats, and protective clothing guard us against the culprit that causes premature aging.  But not all sunscreens are created equal.  Some are formulated to protect your skin with chemical blocks and others with physical blocks and some use both.  You want a sun screen that helps absorb UVB rays, that are primarily responsible for sunburns, and block UVA rays, that penetrate deep into the skin which leads to premature aging and possibly skin cancers.
The Jewell District Medical Spa has a number of different choices of sunscreens to protect you while you are out this summer enjoying the sunshine.  No matter if your skin is oily or dry, acne-prone or fragile, or looking for an SPF 15 to 50, Sherry our Aesthetician can suggest a sunscreen that will work for you.  Obaji, Nia 24 and Neostrata are three different cosmeceutical brands designed to offer different options for your skin type and condition.
Summertime in Oregon is glorious.  So don't get caught bare this summer, slather on some good sunscreen protection to keep ahead of the UV skin aging culprit while you have fun in the summer sunshine.