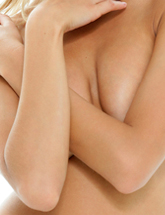 In recent years there have been many studies about the benefits of breast feeding over using manufactured formula. The medical community has come to a consensus that breast feeding is the best option for newborn babies whenever possible. There are many factors that can make it difficult or even impossible for a new mother to breastfeed, but despite what you may have heard, having breast implants is not one of them.
There are a large percentage of women who have had breast implants that are choosing not to breast feed their newborn children. Based on a study done by the American Society of Plastic Surgeons (ASPS), the reasons that women are opting out of getting breast implants due to concerns about breastfeeding are based mostly in misinformation. In order to ensure that our clients and their babies are fully informed, we are debunking the top myths associated with breast implants and breast feeding.
MOTHERS CAN'T BREASTFEED BECAUSE OF THE IMPLANT: This is the most common myth associated with breast augmentation and breast feeding. If you have had a breast augmentation you are probably already aware that this is not true, but for those of you considering a procedure let us reiterate: THIS IS NOT TRUE! When an implant is placed in the sub-muscular position and the incisions are made away from the nipple, breast feeding will not be interfered by breast augmentation.
BREASTFEEDING CAN DAMAGE THE IMPLANT: Some women believe that breastfeeding can damage the implant and thereby pass unsafe material onto the baby. Again, this is not true. Breast implants (particularly new "gummy bear" implants) are designed to withstand significant wear and tear. Breast feeding cannot damage your implant any more than sexual activity.
BREASTFEEDING WILL MAKE MY BREASTS SAG: This is one of the most common misconceptions. When a woman makes the choice to have a breast augmentation procedure, they are making an investment in their breasts. Some believe that breast feeding will affect how their breasts look. This is also not true! Breast feeding has nothing to do with sagging breasts. The growth associated with pregnancy as well as the number of pregnancies a woman has both contribute to sagging breasts after having children. Avoiding breastfeeding will not stop this.
Breast feeding is a choice that every mother has to make for herself and her baby. It is a personal choice and can be a sensitive topic for many people. We want to make sure that you are making that choice based on the most current information available. This information is based on long-term breast implant follow up studies conducted by Dr. Jewell and published in the peer-reviewed scientific journal, Aesthetic Surgery Journal.
Whether you have already had a breast augmentation or are considering getting one, we are here to help. Feel free to contact us to set up a consultation or follow up on your procedure.