Dr. Mark Jewell along with 8 other authors has published the largest consecutive series of its kind to date regarding the use of a novel bio-engineered textile made from silk for abdominal wall reconstruction in the Plastic and Reconstructive Surgery Global Open Journal (2014). This involved patients who needed soft tissue reinforcement and repair in the abdominal area. Some of the patients had hernias and others were cosmetic abdominoplasty (tummy tuck) patients.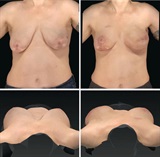 Dr. Jewell has been involved with the initial development of Seri Surgical Scaffold and has participated in the Sure-001 breast reconstruction study, which used it for soft tissue reinforcement. Additionally, he has been involved with the training of several hundred plastic surgery colleagues through the Allergan Restore Bioskills training program.
He was the first to report on the outcome data from the Sure-001 Study in 2013 at the Canadian Society for Plastic Surgeons and at international breast meeting in Nottingham, United Kingdom and Bari, Italy. A scientific paper on the outcome data from the Sure-001 Study has been published in Plastic and Reconstructive Surgery Journal. The outcome data from this study in 2-stage breast reconstruction demonstrated that patients achieved clinical outcomes
To read Press Release  click below.
http://www.prnewswire.com/news-releases/clinical-study-improved-breast-reconstruction-outcomes-with-seri-scaffold-300028806.html