A World-Class Breast Surgeon in Oregon
Learn why Dr. Jewell is the best choice for your breast surgery.
Learn More
Treatments Offered
Our skin care rejuvenation and dermatology treatments are offered under the supervision and care of Dr. Mark Jewell, one of the nation's most credentialed plastic surgeons. Dr. Jewell invites you to have a consultation with our Medical Aesthetician or Medical Skin Care Nurse Specialist to learn more about the services we have to offer to you at the Jewell District Medical Spa in Eugene, Oregon.
HYDRA FACIAL
The next generation of skin healing procedures, even better than dermabrasion, is the HydraFacial. This breakthrough in aesthetic technology is designed for even the most sensitive skin. No matter what your skin is like, the Hydrafacial treatment is designed to easily tolerate the treatment. The HydraFacial treatment involves the removal of dead or damaged skin cells while at the same time treating the new skin with a variety of skin solutions designed to cleanse, hydrate, and moisturize. This is a soothing treatment that is not only immediately effective but is refreshing and non-irritating as well. Combining a chemical peel with a HydraFacial treatment is common among patients. Often times the effects of the skin refinement treatment are reported as quickly as after one treatment. Multiple HydraFacials for patients, who choose to have them, can bring about noticeable improvement over such trouble spots as fine lines, wrinkles, hyper pigmentation and can reduce acne breakouts.
Clear + Brilliant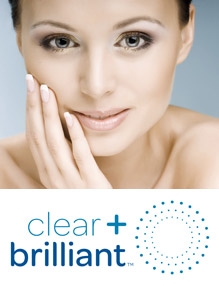 The Clear + Brilliant laser addresses skin care where you need it the most, at the cellular level. It corrects unwanted signs of aging with healthy, younger looking skin. The Clear + Brilliant is a gentle, fractional laser that creates millions of microscopic treatment zones in your skin, replacing damaged skin with improved tone, texture and radiance. This laser is unique as it is comfortable, effective, fast, affordable, and it is safe for all skin types.
Even if you are in your early 20's, environmental conditions such as sun exposure, post acne, and lifestyle contribute to early sign of aging skin. Make an appointment to discuss with our aesthetician and trained expert your concerns about your skin tone and texture. She will evaluate your skin and provide the best course of treatments for your unique concerns.
Chemical Peels
Chemical Peels are one of the safest ways to restore your skins healthy glow and youthful appearance. Chemical peels provide controlled, predictable removal of surface skin cells, stimulating skin renewal to improve your appearance. Peels improve skin texture, reduce fine lines, wrinkles, and large pores and minimize acne scars. The Jewell District offers many different kinds of chemical peels. Depending on your particular needs we can offer chemical skin peels with hyaluronic, salicylic, glycolic and lactic acid. At your consultation our aesthetician will help you decide which peel will give you the most benefit and the beautiful results you are looking for.
Laser Treatments
Laser Genesis®
Laser Genesis® utilizes a non-surgical laser technology to safely, discreetly and effectively treat fine lines, wrinkles, large pores, uneven skin texture, skin redness and scars. You can expect to see subtle, yet consistent, results after each treatment without the side effects of bruising or excessive skin irritation. Over the course of four or five treatments, most patients will see a creamy, healthy complexion as large pores are reduced in size, and minor imperfections are diminished.
Limelight® Facial
This Intense Pulse Light (IPL) treatment is a quick, safe way to improve your skin's tone and color on your face, chest, arms and hands. The Limelight® Facial is exceptionally effective in treating and reducing the appearance of brown pigmented lesions caused by aging and sun damage, as well as diffuse redness such as rosacea. IPL leaves your skin looking clearer, younger and healthier.
*In some cases, combining Laser Genesis® and Limelight® Facial will give you a comprehensive treatment at the 2-dimensional level.
CoolGlide 1064NM YAG Laser®
Cutera CoolGlide® can treat unsightly facial veins (or telangiectasias) without bruising. It delivers pulses of light energy which cause the blood within the vein to coagulate, eventually destroying the vessel which is later absorbed by the body leaving your skin looking clearer.
Prowave® Hair Removal
Prowave® is a safe, fast and comfortable way of reducing hair on all parts of the body. This advanced technology delivers a uniquely tailored light source for long-lasting hair reduction. ProWave® delivers 21st century technology to provide treatment to a wide range of skin types. Make your unwanted facial and body hair a thing of the past with the ProWave® difference.
Keep in mind that each patient is unique and your results may vary.
© Copyright 2018 Jewell Plastic Surgery Center, all rights reserved. Privacy policy
Medical Website Marketing by Etna Interactive