Mark L. Jewell, MD Alireza "Reza" Najafian, MD 1200 Executive Parkway Suite 360 Eugene, OR 97401 Phone: (541) 683-3234 Fax: (541) 683-8610 Monday – Thursday: 9 a.m.–5 p.m.
Friday: 9 a.m.–2 p.m.
KYBELLA®
People in Salem, Corvallis, Bend, and other nearby communities have the option to reduce their double chin with fat-melting KYBELLA injections in Eugene, Oregon. Jewell Plastic Surgery was the first practice in the Pacific Northwest to offer KYBELLA. Dr. Jewell is among the leading authorities on this game-changing treatment and spoke to the FDA panel responsible for approving KYBELLA. For people concerned about a double chin, an injection that destroys treated fat cells is an excellent alternative to surgical liposuction.
How does KYBELLA work?
Fat beneath the chin isn't always the result of being overweight; it can be caused by aging or genetics, and double chins are notoriously resistant to diet and exercise. KYBELLA is made using deoxycholic acid, a substance that is produced naturally by your body to help absorb fat cells. Injecting it into the fat below your chin, called submental fat, causes cell membranes to rupture, destroying the fat cells.
Featured Before-and-After Photos
Photos courtesy of Kythera.
*Keep in mind that each patient is unique; your results may vary.

What is a KYBELLA treatment like?
Dr. Jewell is recognized for his expertise with this procedure and has been selected to train other doctors in the proper use of KYBELLA. He customizes your treatment regimen based on your cosmetic goals and physical characteristics, and the number of sessions varies from patient to patient. At each session, your provider makes a series of injections – as many as 50 in one appointment. Some patients see optimal results after 2 to 4 sessions, which are spaced at least a month apart. Up to 6 treatment sessions may be scheduled.
Watch this video clip from the Today Show, which explains how KYBELLA works.
How long do KYBELLA results last?
KYBELLA destroys fat cells when injected below the chin. Fat cells that are destroyed cannot store and accumulate fat, so the results following treatment with KYBELLA will last as long as a patient maintains a steady weight.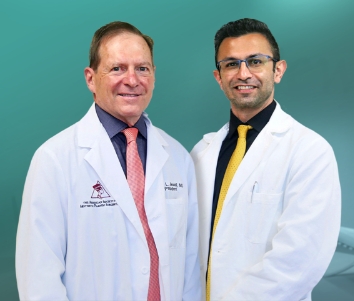 Dr. Mark Jewell & Dr. Alireza "Reza" Najafian
Exceptional Plastic Surgeons in Oregon
Dr. Jewell and Dr. Najafian combine artistry and surgical expertise to create customized results tailored to each patient's unique needs.
Are there any side effects from KYBELLA?
KYBELLA was tested extensively in numerous clinical trials before gaining FDA approval. The most common side effects noted during those trials included bruising, swelling, numbness, redness, and small areas of firmness around the treatment area. All of those side effects are temporary and gradually dissipate.
Can KYBELLA be used to treat other areas?
The FDA approved KYBELLA injections specifically for the treatment of submental fat. It's not clear if injections would help larger pockets of fat, such as on the hips or abdomen. These are best treated through liposuction.
What does KYBELLA cost?
As with most cosmetic procedures, the price of your treatment is influenced by several factors. Those include the number of separate procedures needed and the number of injections used during each session. After your consultation, you will have a price quote based on your surgeon's treatment plan.
A Reputation Built on Results
I've been anxiously waiting to write a review for Dr. Jewell and team. I am beyond grateful for this...
You should see Hillary if you want beautiful natural results! She knows your face structure and what...
Are there alternative treatments to KYBELLA?
KYBELLA is the only FDA-approved, non-surgical procedure for treating a double chin. There are, however, other good options if you don't get the results you desire from KYBELLA. Some patients with loose neck skin may benefit from Ultherapy®, a non-surgical skin tightening treatment that uses ultrasound energy. VASER® liposuction is a surgical option for men and women who want to improve the definition of the neck and jawline. One of the advantages of liposuction in the neck area is the procedure provides immediate results.
Dr. Jewell and Dr. Alireza "Reza" Najafian spend the time needed to inform patients about treatments they're considering so they can make informed and confident decisions. Patients considering KYBELLA travel from Roseburg, Florence, and surrounding areas to our Eugene practice. Request a consultation online to meet with Dr. Jewell or Dr. Najafian, or call our office at (541) 683-3234 to schedule an appointment.
Jewell Med Spa & Specials
It's never too early to begin the journey toward healthier, youthful looking skin.
Learn More
Back to Top