Dr. Mark Jewell along with other plastic surgeons in the US, Sweden, United Kingdom, and Australia published an important peer-reviewed scientific article in Plastic and Reconstructive Surgery (PRS) (September 2017) regarding their outcome data about ways to prevent the occurrence of anaplastic large cell lymphoma that is associated with bacterial contamination (biofilm) of textured breast implants.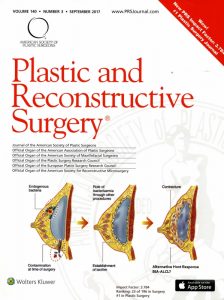 This article is available for free download from the PRS web site: http://journals.lww.com/plasreconsurg/Fulltext/2017/09000/Macrotextured_Breast_Implants_with_Defined_Steps.1.aspx
This article detailed the collective experiences of 8 plastic surgeons who utilized similar surgical techniques to prevent bacterial contamination of textured breast implants during surgery that is thought to produce both capsular contracture and the very rare ALCL disorder. Approximately 42,000 textured breast implants were studied, with a mean follow up of 11.7 years' time. To date, no cases of ALCL were encountered in the patients whose surgery was performed with techniques to prevent bacterial contamination of the textured surface of breast implants.
This is an important article for both plastic surgeons and patients as it relates to the first time that outcome data demonstrates a process to reduce the risk of a rare disorder, ALCL through modification of surgical techniques and meticulous attention to avoiding surface contamination of textured breast implants. ALCL is a very rare disorder, with a purported incidence of 1:30,000 patients. It has been reported in breast implants, dental implants, and implanted chemotherapy ports.
Dr. Jewell has been involved with textured breast implants since 1992. He has a collective experience of approximately 40 years of breast implant surgery. Throughout this time, he has continued to evolve his surgical technique to encompass meticulous surgical techniques, including steps to avoid surface contamination of breast implant. To date, he has never experienced an infection in a primary breast augmentation patient nor ALCL.
According to Dr. Jewell, this article is the first time that scientific outcome data has been reported that demonstrates a way to reduce the risk of surface bacterial contamination that is thought to lead to ALCL. If patients experience late-term development of fluid around their breast implants, Dr. Jewell advises that they should see their plastic surgeon for evaluation.
Textured breast implants remain a useful option for some patients, according to Dr. Jewell. The good news here is that he along with other researchers have developed a way to reduce the incidence of ALCL through prescribed surgical technique that reduces the risk of bacterial surface contamination.