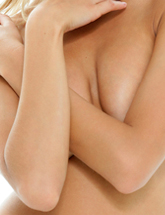 Recent years have seen a lot of growth in the field of cosmetic and plastic surgery treatments. For the past three years, there has been steady industry-wide rise in popularity and 2012 has continued this trend. Overall, the plastic surgery industry saw a 5% growth in 2012, despite a decline in surgical procedures. Non-invasive procedures, such as Botox, laser skin resurfacing, and dermal fillers, such as Juvederm, grew to record numbers; off-setting the slight dip in surgical procedures. However, recent news from the FDA may help turn around the recent slip to plastic surgery's top surgical procedure.
The FDA has given its approval for a new silicone-gel based breast implant called the Natrelle 410 breast implant. This news has the field of plastic surgery buzzing with excitement. The Natrelle 410 breast implant opens up the possibility of breast augmentation surgery to many women who were previously unable. This recent news could lead to an increase in breast augmentation surgeries in 2013.
What makes the news of the Natrelle 410 implant's FDA approval so significant are its applications. The Natrelle 410 implant provides a solution for women who desire a breast augmentation but suffer from constricted breasts, lack of supporting breast tissue, chest wall deformities, or who are breast reconstruction patients. Unfortunately with all excitement comes a learning curve as well.
The new Natrelle 410 implant is not a traditional round implant; as such, it requires a certain amount of care to position. It is also a gel based silicone implant, which means it cannot be filled once in place. This requires a slightly larger incision to properly place the implant. They also come in a variety of sizes and shapes which require a high level of precision to work with properly. While these differences may be problematic initially, using the Natrelle implant will become as routine as traditional implants with time and practice.
The introduction of the silicone based form stable-gel implant, affectionately known as the gummy bear implant, has been a 10 year adventure in the making. For more than a decade, clinical studies have been done to evaluate the safety, applications, and benefits of the Natrelle 410 implant. The results have been overwhelmingly positive, leading to the FDA's approval. This means that women seeking breast augmentation surgery can now choose from saline implants, silicone implants, and the new gummy bear implants, all in a variety of sizes and shapes, as well as techniques, to place the implant.
Dr. Mark Jewell has 12 years of experience with the Allergan Natrelle 410 implant as an approved clinical investigator on the studies that led to its approval in February, 2013. Additionally, he has published scientific articles and a book chapter on the clinical use of the highly-cohesive, form-stable breast implants.
Despite the decline in surgical procedures, breast augmentation procedures are still the number one surgical procedure sought out in 2012. Now with the news of the FDA's approval of the Natrelle 410 implant, 2013 is looking to be another banner year for breast augmentation surgeries. To learn more, schedule your consultation with Dr. Mark Jewell today.