As many women and men reach their forties  and fifties, they start to worry about looking older. They may start out with Botox Cosmetic® or other facial fillers, but soon these are not enough to maintain a youthful face. A facelift along with eyelid surgery is the next consideration for comprehensive facial rejuvenation.
The facelift procedure has improved drastically over time. Technology and procedures have evolved and today's facelifts offer excellent results. This is "not your grandmother's facelift," with prolonged bruising, short-lasting results, and downtime.
Early Facelifts
The first facelift was performed in the early twentieth century in Europe. An article written by Hollander in 1901 suggests that early facelifts were performed by using the strip excision method. In this method, a strip of skin was removed from in front of the ear and then sutured together with another piece of skin. By 1910, facelifts were starting to evolve and included subcutaneous tissue suturing.
Surgeons in this time period did very little collaboration. Surgeries were even performed by untrained practitioners. This led to the formation of the American Board of Plastic Surgery and American Society of Plastic and Reconstructive Surgeons in the 1930s.
Facelifts of the 1970s
In the 1970s, surgeons began using the SMAS technique. To perform this surgery, physicians cut into deeper muscles and soft tissue and lifted the underlying structures with sutures. They also tightened up the facial skin. The concept of "delaminate to rejuvenate" by which layers of the face were dissected apart and lifted started during this time period.
1980s to 1990s Facelifts
During this period, surgeons developed more invasive and aggressive techniques. These techniques involved intense planning. This resulted in extensive swelling and bruising. The procedure also often left extensive scarring and led to a long recovery time.
Modern Day Facelifts
During the last decade, facelifts have become less invasive and radical. There is less scarring and a shorter recovery time.
A new technique developed by Dr. Mark Jewell and his Belgian colleagues (Tonnard and Verpaele) is known as the MACS lift (minimal access cranial suspension facelift). Loops of sutures are used in this innovative new facelift technique. This technique re-suspends underlying muscle and soft tissue and helps to lift up facial features that have sagged down with age. This technique is not as invasive as the SMAS lift and offers an excellent outcome. In its most simple fashion, this is a cranial suspension of facial structures without the need for deep-layer dissection. Long-term outcomes support this approach as being safe and with acceptable outcomes.
Dr. Jewell has extensive experience with this technique. He has published textbook chapters on the MACS (Cranial suspension rhytidectomy) technique. He also teaches bioskills classes that instruct surgeons in the proper performance of the MACS facelift.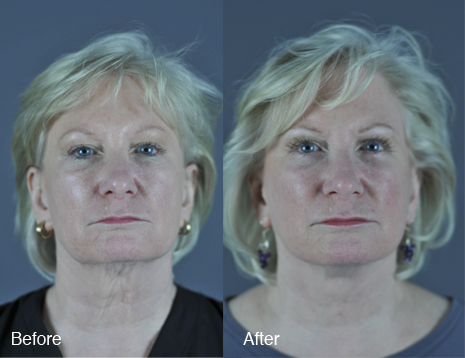 According to Dr. Jewell, this is a technique that is very useful in primary and repeat facelift patients, that gives acceptable long-term outcomes, and avoids producing changes within the face that produce a look which makes the face appear altered.
Dr. Jewell is an expert in both non-surgical facial rejuvenation with neurotoxins, tissue fillers, such as Perlane and Voluma, and comprehensive facial rejuvenation surgery.