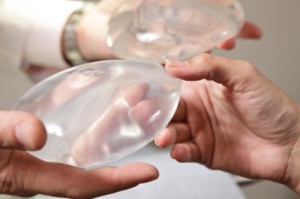 Breast augmentation surgery is one of the most sought after cosmetic procedures on the market today. In an industry that is ever-growing, it is important to not only keep up with demand but to continue to develop new methods and techniques to improve the client experience.
The number one reason women seek out breast augmentation surgery is that they want to have larger breasts. Finding the right size can be tricky. There are so many factors to consider when a patient and doctor team starts looking for the right implant and size. It is a combination of science and art. Measurements allow the surgeon to understand the sizing of the chest and breast and what implants would "fit" the individual. Listening to the patient to what her goals are plays into the experience the surgeon has to develop a plan that provides the best choice of sizing.
Trying on different "sizers" of implants allows a gal to see herself with implants and view what she could look like volume wise. Another adjunct to visualizing oneself with implants is to use 3D imagining. Thanks to the Vectra System, you almost can! As 3D technology advances, plastic surgeons have found a way to use it to the benefit of their breast augmentation patients.
The Vectra System is a series of cameras that take photos of a woman's breasts and builds a model in 3D on a sophisticated computer. This allows the doctor and patient to essentially try out different implants in virtual manner. By seeing the impact a certain implant size will have on a woman's breasts from all sizes helps them to make a better informed decision.
The Vectra System is finding its way into more and more plastic surgery practices across the U.S. and is making quite an impact. According to the FDA, 37% of breast revision surgeries are the result of wishing a woman had gone up to a larger size. The Vectra System is helping to ensure that the choice of breast implant size is right the first time.
Dr. Jewell is a pioneer in developing devices and utilizing technology. He has had the Vectra System for a number of years. Allowing patients to see themselves with volume and shape in implants help ensure the highest level of satisfaction when the breast augmentation day finally comes.
Ultimately, the most important things that will contribute to a successful breast augmentation procedure is having reasonable expectations and working with a quality, board-certified plastic surgeon such as Dr. Mark Jewell. With a combination of medical expertise and an artistic eye, Dr. Jewell has long been considered Oregon's premiere plastic surgeon and is highly regarded throughout the country.
If you are one of the over 300,000 women who are considering a breast augmentation procedure make sure to do your research in advance and schedule a consultation with Dr. Mark Jewell to discuss everything you need to know to make the best decision moving forward.