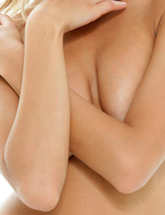 Breast augmentation surgery is, by far, the most popular cosmetic surgery procedure performed today. One of the biggest concerns for many women when going into their breast augmentation procedure consultation is what size breasts they want to have at the end of it all. There are many women who think bigger are better, but choosing a breast implant that doesn't fit a patient properly can result in unsatisfying results and potential problems in the future.
Choosing the right size can be a challenge. There are many factors to consider when determining the right sized breast implant:
Size of a woman's anatomy
The current size of a woman's breast
The amount of tissue (skin and breast tissue) in the breast area
Her lifestyle, activities, and sports
For the most natural looking result, a breast implant needs to fit securely in the soft tissue of the breast. An implant that is too large to fit inside the soft the tissue of the breast can not only create an unnatural looking breast but also create problems, such as the implant drifting out of the pocket, or make both breasts appear to be one large mass. By having complications from too large of breast implant, a patient increases the likelihood of having to do breast implant revision or various future procedures to correct potential problems.
In addition to surgical complications, adding breast implants that are too large for a woman's body can create health related problems. Issues, such as neck and back pain, shoulder grooves due to bra straps, or skin irritation under the breasts, can all be the results of having breasts that are too large.
During the initial consultation with a board-certified plastic surgeon like Dr. Mark Jewell, who is an expert on breast implants, a variety of options will be discussed; the desired breast size is among those topics. The surgeon will evaluate a patient's breast tissue and discuss the pros and cons to various approaches and sizes, in regard to the breast augmentation surgery. The ultimate goal for both the patient and the surgeon is to achieve full, beautiful breasts that will not only satisfy the patient, but will create long lasting results.
There are many ways that women can "try on" various breast sizes prior to breast augmentation surgery. One of the most popular technique, which is available to anyone, is the rice test. The test consists of filling a nylon stocking with rice, placing in the bra, and trying different amounts; this can give a woman a sense of various sizes and weights of breast implants. Some companies even offer bra inserts that are much like the implants themselves, to help women determine the right size for their surgery. While this is a good starting point, other options, such as 3-D imaging, help patients understand subtle differences in their breast shape.
Finding the appropriate balance between breast implants that are a big enough yet safe enough size to satisfy both patient and doctor is something that Dr. Jewell does with how he performs breast augmentation. Dr. Jewell has an excellent understanding of what would be an optimal size for each patient, based on her anatomy, size preferences, and activities.
It is also important to remember that your cosmetic surgeon is there to not only give you the procedure you want, but to ensure that it is both successful and safe. Use the consultation as a time to openly discuss your goals, the potential advantages, and the potential disadvantages of various implant types and sizes. This will help you greatly increase your chances of having a successful breast augmentation surgery!