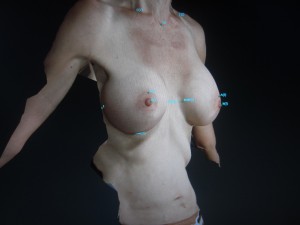 Patients seeking breast augmentation or reconstruction ask, "What will my results look like?" While various simulations have been tried to put breast implants into a bra, the best option according to Dr. Mark Jewell is the use of 3-D imaging/modeling programs, such as the Canfield Vectra. This simulation technology takes six individual photographs and electronically makes them into a 3-D manikin of a patient.
From there, physical measurements of breast shape can be taken and modeling of outcomes with various implant styles can be shown. Dr. Jewell believes thatVectra imaging offers patients something unique, as it provides good guidance for pre-surgical planning and allows patients to see a simulation of what they may resemble after surgery. While this is just a simulation, patients appreciate seeing a projected outcome with different implant styles and shaped. According to Dr. Jewell, the reality testing of seeing oneself with a simulated outcome from breast augmentation helps patients understand what would be their optimal size and shape.
Besides the physical measurements of a patient's breasts that Dr. Jewell takes, the Vectra 3-D image helps point out size and shape differences which can influence outcome. While every patient has some side-to-side asymmetry in her breasts, the VECTRA evaluates breast volume and chest wall contour that can influence breast shape/size. Vectra imaging is also useful in patients with sagging breasts to model the result from a breast lift (mastopexy) or to determine breast volume for reconstruction.
Dr. Jewell believes that the application of 3-D Vectra imaging and planning systems such as the Toyota Production System (TPS) make breast augmentation a far more refined and individualized operation than it was formerly. The word, "precision" defines reproducibility of intended outcomes. In the case of breast augmentation with Dr. Mark Jewell, these approaches have been used