March 27, 2017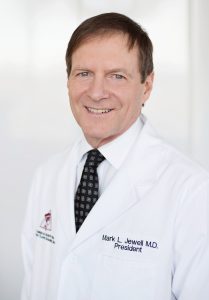 There is a rare type of lymphoma that is associated with all brands of textured breast implants. It is called Breast Implant-Associated Anaplastic Large Cell Lymphoma (BIA-ALCL). On March 21, 2017, the U.S. Food and Drug Administration (FDA) released a safety communication updating the current understanding of BIA-ALCL. The professional societies for Plastic Surgery, ASAPS and ASPS, released a joint response over much of the data surrounding BIA-ALCL. Dr. Mark Jewell would like to put matters into perspective for his patients and bring clarity to some of the issues surrounding this rare disease.
The recent BIA-ALCL update reported that the FDA has been made aware of 359 medical device reports (MDRs) related to breast implants and ALCL. First, BIA-ALCL is not a breast cancer, but a rare and treatable T-cell lymphoma that usually develops as a fluid swelling around breast implants. It appears to develop years after implants are placed; and is thought to be caused by a rare type of bacteria that contaminates the surface of the textured breast implant, which causes chronic inflammation.
BIA-ALCL is a rare and treatable disorder. To put this into perspective, the lifetime risk for this disease appears to be about 1 case for every 30,000 textured implants. This equates to a 0.003 percent risk. Thus far, there have been no confirmed cases of BIA-ALCL in women who have had only "smooth-surface" breast implants. In comparison, the lifetime risk of a woman developing breast cancer is 1 case for every 8 women. Women who develop BIA-ALCL can often be cured by simply removing the implant and the scar tissue surrounding it. Some patients may require additional treatment (such as chemotherapy). Following removal, replacement with a smooth surface implant may also be an option.
 Dr. Jewell would like his patients to know that he utilizes techniques to reduce the risk of implants becoming contaminated during surgery with antibiotics and anti-infective substances. This appears to be successful in mitigating risk of infection and late-term fluid accumulation in his patients. To date, with over 39 years of experience in performing breast augmentation, Dr. Jewell has never experienced an infection in a primary breast augmentation. He has not experienced late-term fluid accumulations caused by BIA-ALCL in over 15 years of using textured-surface breast implants. Textured breast implants remain an option for patients, when appropriate.
He has been involved in scientific research regarding BIA-ALCL and the management of breast implant complications. This includes published scientific articles on the management of late-term fluid accumulation and BIA-ALCL. Additionally, Dr. Jewell along with seven other surgeons have a manuscript accepted for publication later this year on a large population study of women (21,560 women; 42,035 textured implants) who underwent breast augmentation where specific techniques were utilized to reduce the risk of surface contamination of textured implants. To date, none have developed BIA-ALCL (mean follow up 8.8 years).
Both Dr. Jewell and the FDA are not recommending removal of textured implants. Rather, every woman should perform regular self-examination. If you develop swelling or a lump in your breast, contact my office right away. I will comprehensively evaluate you and order the appropriate tests to determine if any treatment is indicated.
For additional information about BIA-ALCL, consult the American Society of Plastic Surgeons website at www.plasticsurgery.org/alcl . Of course, I am happy to answer your questions personally.
I greatly appreciate having you as one of my patients, and will continue to monitor these developments closely. I promise to keep you informed of any new developments.
Sincerely,
Mark L. Jewell, M.D.